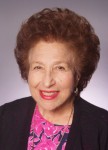 July 21, 1933
-
May 14, 2020
Born in Greece
Resided in

San Pedro

,

California
Obituary
Ermione passed away in the early morning hours of May 14th at LCM Hospital Torrance, with her daughter by her side. She is finally at peace, after battling to overcome complications arising from a fall at home on February 7th.
Ermione was a beloved mother, sister, aunt, friend, and colleague. She is survived by her daughter, Angela; brothers, Costas and George; many nieces, nephews, and cousins; dear friends and long-time colleagues. She is predeceased by parents Alexei and Eleni, husband Gus, and son James.
Erma was a long time Real Estate Broker, selling South Bay real estate for 45 years. The last 25 years were at Re/Max Estate Properties, in partnership with Angela.
From the moment she was born in Thimiana, Chios, Greece, Ermione charmed everyone she knew. People, children, and animals were drawn to her giving nature and infectious laugh. She mended broken bird wings, tamed feral cats, and befriended all around her, even Nazi officers would stop to give her handfuls of candy during the enemy occupation of her island. Ermione excelled as a student, and was one of the first female graduates of the Emboriki Business School of Chios, her degree in Accounting. She also trained as a seamstress, so that she could make beautiful clothing to wear with her favorite accessory, shoes. It was a good thing her father was a shoemaker. He kept her well shod, until she came to America and discovered Gimbels, Macys, and Nordstroms.
On a fateful day in September of 1957, Ermione attended her cousin's wedding. From afar, a Greek American named Gus became enthralled by her grace, beauty, and great legs. He insisted his cousin introduce him to her, and persisted on meeting her father to ask for her hand the very next day. As an embittered WWII vet Gus knew that life was short, and took nothing for granted, especially time. It was a surprise to all when she said yes, she would marry this stranger in four days and take off for America with him. They married on Thursday, September 26th, took a quick honeymoon to Rhodes, and he departed to the U.S. Once back in Baltimore, he quickly arranged for the papers and transport of his new bride. She arrived in NYC on St Patrick's Day, 1958. She remembered thinking the parade going on was to welcome her and all the others on the ship that day.
Ermione, quickly settled into her new life in Baltimore, reacquainting with cousins, and making many new friends. She honed her English skills with her new neighbors, with humorous results. She learned to cook and bake, Gus somehow survived. Gus traveled often as a painting contractor, and she would be left alone for weeks on end. Her loneliness ended when her daughter Angela was born in May, 1959, followed by James in April, 1962. She was overjoyed to be a mother, a true nurturer with a great sense of fun
In 1963, Gus came back from a trip to San Pedro, California, where he had a job painting the Vincent Thomas Bridge. He told Erma of the beautiful town of San Pedro, the great weather, the nice people, and how it reminded him of Chios, enough said. They drove cross country in August, 1963, Erma drove half the way, trial by fire.
Once in San Pedro, Erma set about making a home for her family. Making new friends was no problem, she found lifelong friends while at the park with her children, Gaffey Pool, the new St. Katherine's parish in Redondo Beach, and supermarket parking lots. Her gift of engaging others, would sometime drive her impatient kids crazy. The only time she rushed to go home was when Dark Shadows was about to air.
She insisted on having her own home, scrimping and saving to do so. She loved open houses and would drag her kids through them on weekends. By 1967, they made her dream a reality, and bought a house on 25th St. She worked for the PV School District as a 'cafeteria lady'. She was much beloved by the staff and students of Miraleste High School. A chance conversation with a teacher/counselor would change her life forever. She told Erma her vibrant personality, intellect, and social skills were wasted where she was, and that she should go into Real Estate. She promised Erma she would be her first client. Erma went to Real Estate School at nights, and passed her agents exam on the first try in Nov, 1976. The teacher kept her word, and was a dear friend and client for many years.
Erma excelled at Real Estate, finding the right home for someone was her true calling. People sensed that she truly cared, and wanted them to be happy. Many of these clients became lifelong friends, their children, and grandchildren clients as well. She got her Broker's license a few years later. She was a past C.A.R. State Director, most recently recognized as a N.A.R. Realtor Emeritus. So many of her colleagues were special to her, she considered them dear friends, especially her old All American gang.
Erma was living the American dream, thanks to her dedication and hard work. She had her dream house in South Shores, Vegas jaunts with Gus and friends, trips to Chios to see her beloved family and friends.
In 1999 Erma suffered a heart attack, had several angioplasties, and a double bypass. During these surgeries she put her faith in God, and her St. George to get her through. While recovering in the hospital after the bypass, she 'coded' and died. She was brought back after a few minutes, recounting a fantastic story of silvery skies, serenity, and departed loved ones. Her mother told her she had to return, it wasn't her time. From that moment, she was a gift from God, back to us, for over 20 years. She always said that she was meant to come back to sell more houses, and to let others know to not fear death. A defibrillator was implanted, and she went about telling everyone that she was now the 'Bionic' woman.
Over the years, she suffered from many health issues, but you wouldn't know it to look at her. The loss of her dear Gus, her beloved Jimmy, dear friends and her menagerie of pets took its toll. She put on her red lipstick and high heels, smiled her beautiful smile, and persevered. She kept busy, working with Angela, visiting friends, shopping, gadding about in her little red Mercedes. Her health started to fail at the end of 2019, hospitals, rehab, home, back to the hospital, she tried to overcome the challenges. . Many thanks to all who came to visit for their love and support, it is so appreciated. Even if her eyes didn't open, she knew you were there, and felt your presence and love.
Her loving spirit, warm embraces, sense of humor, and contagious laugh will be missed by us all. She graced us on this earth for 86 years, she now graces the heavens. May her memory be eternal.
Zoe se mas.
I would like to express our Family's thanks to Drs. Alejandra Gutierrez and Consuelo Franco, Dr. Michael Wyman, Dr. Gene Kim, HCP Coumadin Clinic, and many other Doctors and nurses of HCP, TMMC and LCM Torrance for their considerate, compassionate care of Ermione over the years. You all meant so much to her, and our appreciation is beyond words.
In lieu of flowers, please consider a donation to St Judes, your favorite charity, or an animal/bird rescue of your choice in Erma's memory. Children and animals were always dear to her heart.
Services
Funeral Home
McNerney's Mortuary
570 W. 5th Street
San Pedro
,
CA
US
90731
2020-11-24T