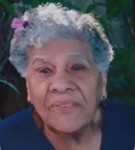 Juanita
Dominguez
Alvarez
December 4, 1921
-
October 30, 2020
Born in California
Resided in

Carson

,

California
Obituary
Juanita Dominguez Alvarez, age 98, passed away peacefully at her home with her family by her side. She was born December 4, 1921 in Los Angeles, California to Epemino and Luz Dominguez. She married the love of her life Felis D. Alvarez, February 21, 1939. He preceded her in death in 2015. They celebrated 76 years of marriage.

She has one sister, Esther Ramirez and her brother, David Dominguez who preceded her in death.

She lived in San Pedro in what was called The Mexican Hollywood in the 1940s. She also resided in Redondo Beach and Carson, California. She was a homemaker until WWII, when her husband joined the Army. She was one of the original "Rosie the Riveters". She was a fast learner and moved up to reading blueprints. Her stories of that era were something you never forgot. She told of The Blackout, how they had to use blackout curtains to cover the windows, the food rationing and the sharing of the food. She told of how she would carry a tin container with beans to her parents, they were very influential in her being. Every Friday she was at her parents, or making phone calls to them everyday.

Juanita also worked at the cannery where she threw tuna on tables to be cleaned. Her stories of how she cleaned the tuna brought smiles to her gentle face. Her memories of the ferry in San Pedro to her job made you wish you were there. Another one of her jobs was working at Mattel Toys. The youngest kids were spoiled as every toy they made her kids had. After her husband no longer needed her help, he got hurt on the job as a Longshoreman, she returned to being a housewife and stopped working at Mattel's. She was a mom who made tortillas, beans, eggs and potatoes in the morning for her kids and anyone they brought home. The real homemaker.

She had her share of hurts. She lost her parents, children and grandchildren. She had a strong faith in God that kept her going. She was our White Buffalo. Strong, full of spirit and spirituality.

If you could ask what one thing will you remember about her it has to be how strong, stubborn and her selflessness. She did not care what her kids thought, she did as she pleased. She took care of those that needed help. She loved her family but not like a overpowering nana. She prayed for her family and accepted them for who they were.

As she aged life became hard for her. She was always in pain. Always crying out to her mom and telling God she was tired. He heard her cry's.

Her children Richard, Phillis, Henry and Pat
Alvarez preceded her in death. She also lost five grandchildren.

She left behind Paul Alvarez - Diane Moreno, Lacy ,Pauline, Paul Jr. and Hector Alvarez. Larry Alvarez (Mija Alvarez). Felix Alvarez (Linda Alvarez) - Felix Jr, Desiree, Rachel and Mandy. Maximo Alvarez the youngest son. Isabel Nieto (the late Tony Nieto) - Belinda, Steve, Danny and Rudy Moreno. Mary Burns (Bill Burns) - William, Diane and Jenny Burns. Becky Alvarez Ochoa (the late Ralph E. Ochoa Sr. ) - Ralph Jr. and Angie Ochoa-Gallegos. The late Richard Alvarez - Laura, the late Richard Jr., Lydia and Louise Alvarez. The late Henry Alvarez (Andrea Alvarez) - Nick and the late Monica Alvarez. The late Patricia Alvarez Villa - Felicia, Tanya Villa, the late Pete C. Villa, Nicole and Richard Curtis.

She had a total of 33 grandchildren, 59 great grandchildren and 36 great great grandchildren.

A service will be held for Juanita Alvarez in honor of her
November 12, 2020
Viewing 10:00
Service 11:00 -12:00
Mission Ebenezer Church

Laid to rest Green Hills Cemetery
1:30
Flowers may be sent to Mission Ebenezer

Repast to follow at Mission Ebenezer following the service.

God calls on a wife and mother to be a woman of strength, courage and wisdom. She should rely on God through thick & thin and lead her children to a knowledge of His saving grace. I say Good job to our mom.
Services
Service
Mission Eben Ezer Church
415 W. Torrance Blvd.
Carson
,
CA
US
90745